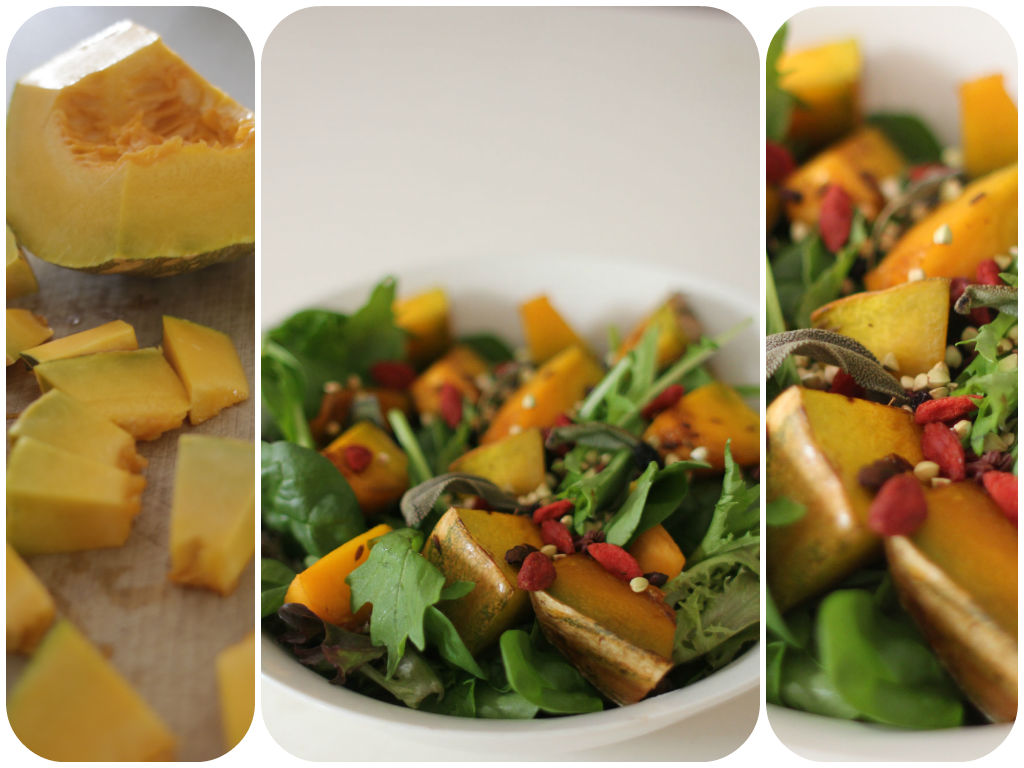 Ingredients
1 cup of green salad
1 cup of cooked pumpkin
a bunch of sage
1 tsp of coconut oil
1 tsp of cumin
1 tsp of goji berries
1 tsp of cacao nibs
1 tsp of buckwheat
1 tsp of maple syrup
1 tsp of apple cider vinegar
1 tsp of olive oil
salt and pepper to taste
Cook diced pumpkin with coconut oil, cumin and sage in the pan until tender. Combine with green salad and a dressing (maple syrup, apple cider vinegar, olive oil). Transfer to a serving plate and top with goji berries, cacao nibs and buckwheat. The recipe is totally flexible. Add any of your favorite ingredients or the ingredient you have on hand. For protein, I served with chicken risotto today, but boiled egg, grilled fish or prawns will also go well together.
Ingredients
5 lovely chicken legs
1 cup of arborio rice
1 tsp of minced garlic
1/2 cup of finely chopped onion
1/2 cup of shiitaki mushrooms
1/2 cup Parmesan cheese
2 tbsp of coconut oil
5 cups of water or stock
sage leaves
Himalayan salt and pepper to taste
Cook onion, garlic, mushrooms with coconut oil until softened. Add chicken to the pan and season with salt and pepper. Stir to coat the chicken for 2 minutes each side. Take the chicken out and add the rice. Keep stirring until the rice is pale. Add water or stock and chicken to the rice and simmer for 20 minutes or until the stock is absorbed and the rice is cooked al dente. Stir frequently and add more stock a little at a time if you need. Remove from the heat and stir in the Parmesan and season to taste.