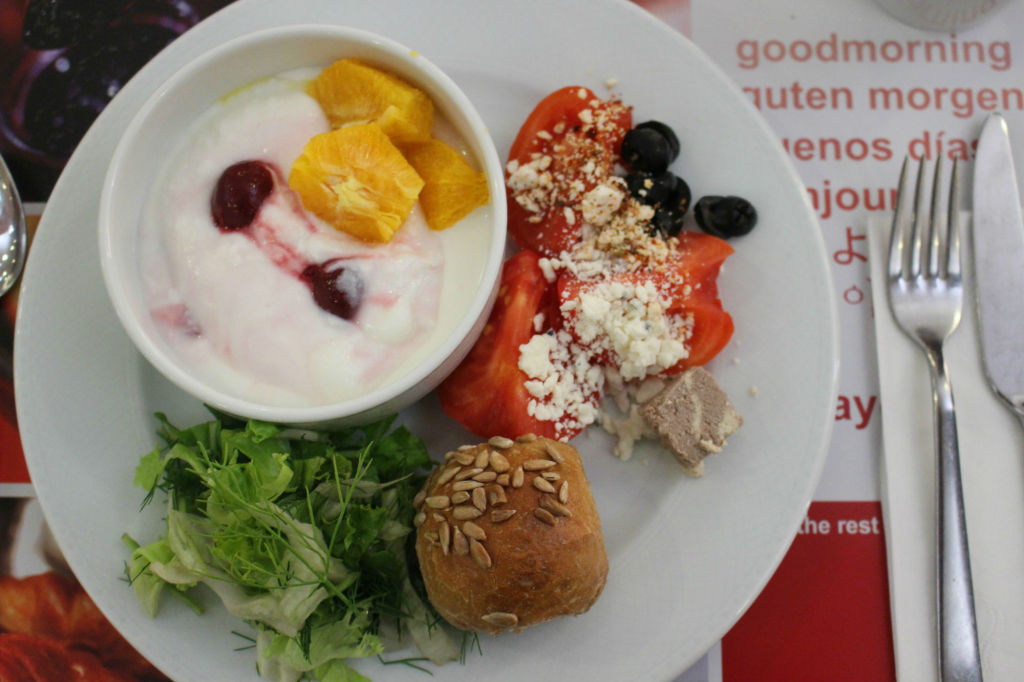 More Turkey photos continue…When I'm travelling, I don't mind waking up at 3-4am (thanks to a jet lag) and making myself tea and coffee (just because I cannot decide which one I want) and flipping through a hotel magazine until the sun comes up. Then I head down to have the most important meal of the day, breakfast, that always has yogurt and olives in Turkey. Everything is so fresh.

We had a tea time up on the hills where you can see Istanbul city. On first impression Istanbul is always busy and bustling, though the views from up here are undeniably peaceful and beautiful. Cool school kids sitting together and having a casual chat looked so relaxed and cute. One of the guys kept looking towards my camera and me pretending not taking a photo of them. Ah..awkward!

Vegan lunch full of fresh herbs and vegetables, just the way I like it.

You should try this champagne and pomegranate juice. Cheers!

Divine dinner tasting plates. They look amazing as well as flavourful. A lot of vegan dishes, yes! Char grilled capsicum stuffed with rice, dolma, mushroom stuffed with goat cheese and beetroot chip, sushi roll filled with peas, hummus, chickpea salad. My taste buds were in heaven. The great thing was chefs constantly checking if everyone was happy with the food they cook and just being passionate about serving modern Turkish food. I was so well looked after since they also gave me recommendations for vegan/vegetarian options.
Before visiting Istanbul, all I knew about Turkish cuisine was kebab, hummus, Turkish delight and dolma. It is much more than that. My experience with Turkish food was incredible. Fresh ingredients, a delicate balance of flavours, fragrant spices, beautiful black tea, my favorite sweets – lokum Turkish delight! Turkish wine was surprisingly good, too. These is no way you will leave hungry in this city.

It is always nice to explore a new city for more than what's written about it on internet or paper. Istanbul was full of energy, beautiful architecture, friendly locals, clean streets, crazy traffic (quite chaotic on the roads and violent drivers) and delicious food. I cannot wait to return.