Despite the gloomy and bleak winter weather, salads for me make a way-to-go meal. Raw green salad is crunchy and light perfect with a light zingy dressing. Then on the other end of spectrum, cooked beans or roasted root veggies packed with spices and herbs are great as served warm on chilly days.
This particular salad was born just after I've been to the farmer's markets. I just threw together all the fresh ingredients I got from the markets and here we have a roasted kipfler potato salad. The kipfler potatoes look like big fat fingers. They are originally from Germany and perfect for boiled or roasted potato salad. They are a great source of complex carbs as well as other nutrients including fibre, vitamin C, potassium, thiamin, manganese and copper. Make sure you are leaving the skin on where much of the potatoes nutritional value is. This salad is a combination of oven-roasted potatoes and zucchini, blanched yellow beans and chopped raw silverbeet dressed with light mustard dressing. It is super simple to prepare and I bet it will be perfect for a classic BBQ staple, too.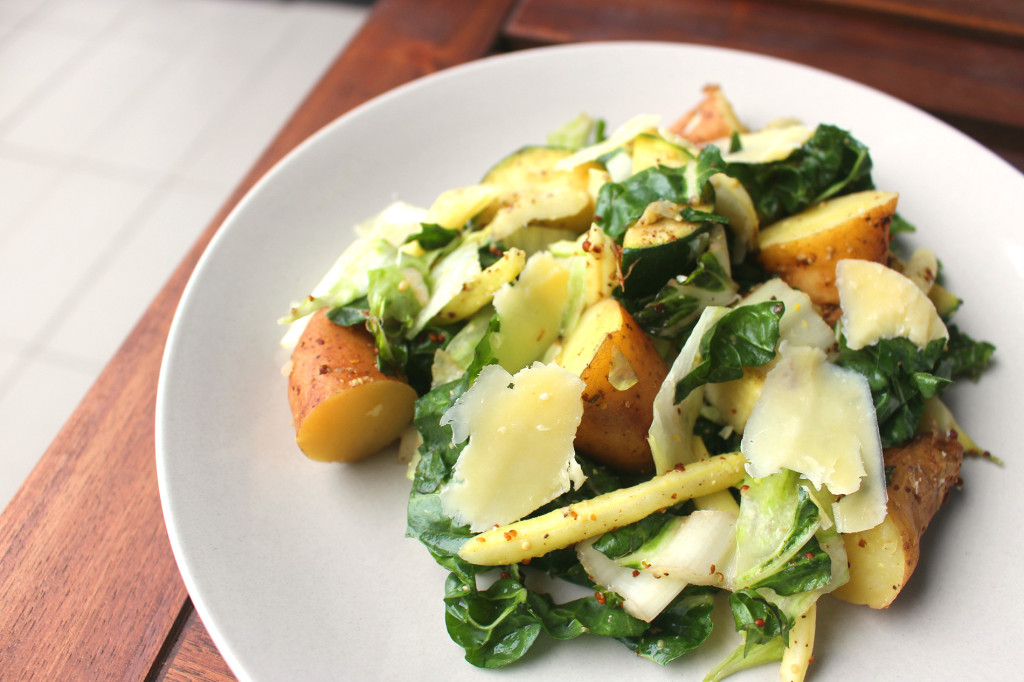 Ingredients (serves 2-4)
3-4 kipfler potatoes
1 medium size zucchini
1 tbsp olive oil
salt and pepper to season
1 cup of yellow beans
2 large silverbeets
30g Parmesan cheese
Mustard dressing
1 tbsp olive oil
1 tbsp wholegrain mustard
1 tbsp apple cider vinegar
1 tbsp raw honey
pepper to taste
Place cleaned potatoes and chopped zucchini in a baking dish. Season and dress with olive oil. Bake in the preheated oven (180) for 15-20 minutes until cooked. In the mean time, blanch the beans and chop the silverbeets. Put all dressing ingredients in a bowl and whisk to combine. To assemble the salad, cooked potatoes, zucchini, beans and silverbeets in a large mixing bowl. Pour the dressing over the salad and toss well to combine. Check seasoning and transfer to a serving bowl. Garnish with shaved Parmesan on top. It is great as a side dish or as a main either served warm or cold.