Traditionally, Korean Kimchi fried rice is made of leftovers that you have in your fridge – some cooked white/brown rice, Kimchi, spring onion, eggs, sesame oil and nori sheet. You only need simple ingredients and it is super easy and quick to make. The hero of this dish is Kimchi. Home-made ones are better and it should be fermented enough to flavour the rice. I'm adding more chili to add a bit of kick and replacing a boring humble rice with an awesome cauliflower "rice" for a nutritional boost.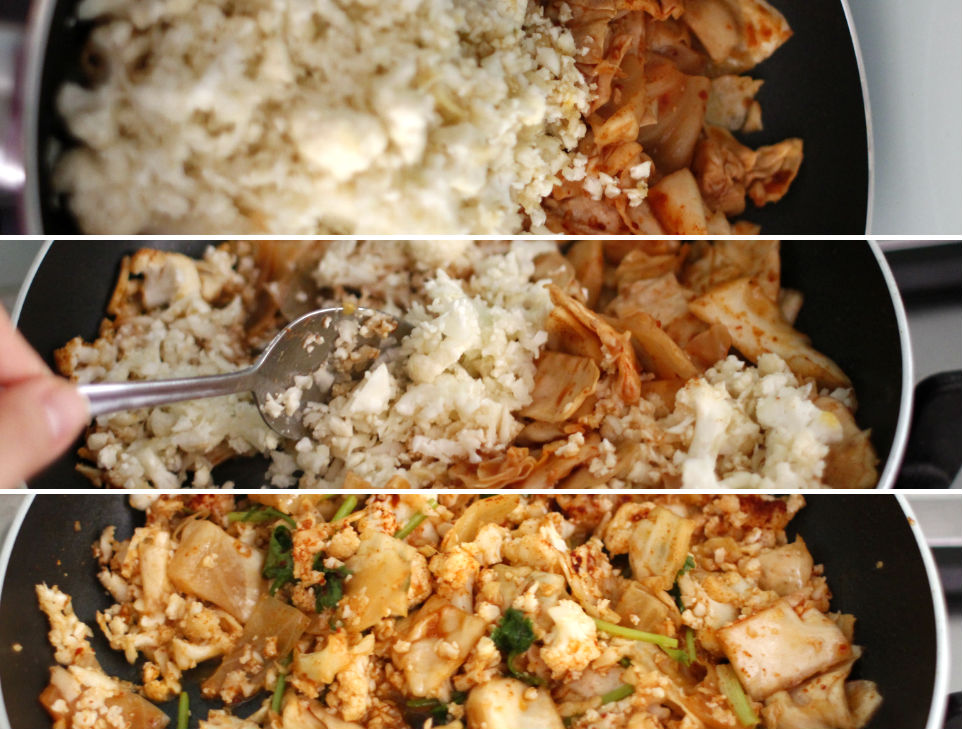 Ingredients
2 cups of grated cauliflower florets
1 cup of Kimchi
1 tsp of smoked paprika
1/2 tsp of chili flakes
1 tbsp of sesame oil
1 tsp sesame seeds
a bunch of coriander
Heat sesame oil in a large pan over medium heat. Add cauliflower "rice" and Kimchi into a pan along with paprika, chili flakes and sesame seeds. Keep stirring for a couple of minutes until all ingredients are combined. Take it off the heat and add roughly chopped coriander. Transfer to a serving bowl and top with coriander leaves. Voila! Done in two minutes. You can also add a fried egg on top to cut down the spiciness and also boost protein if you like.