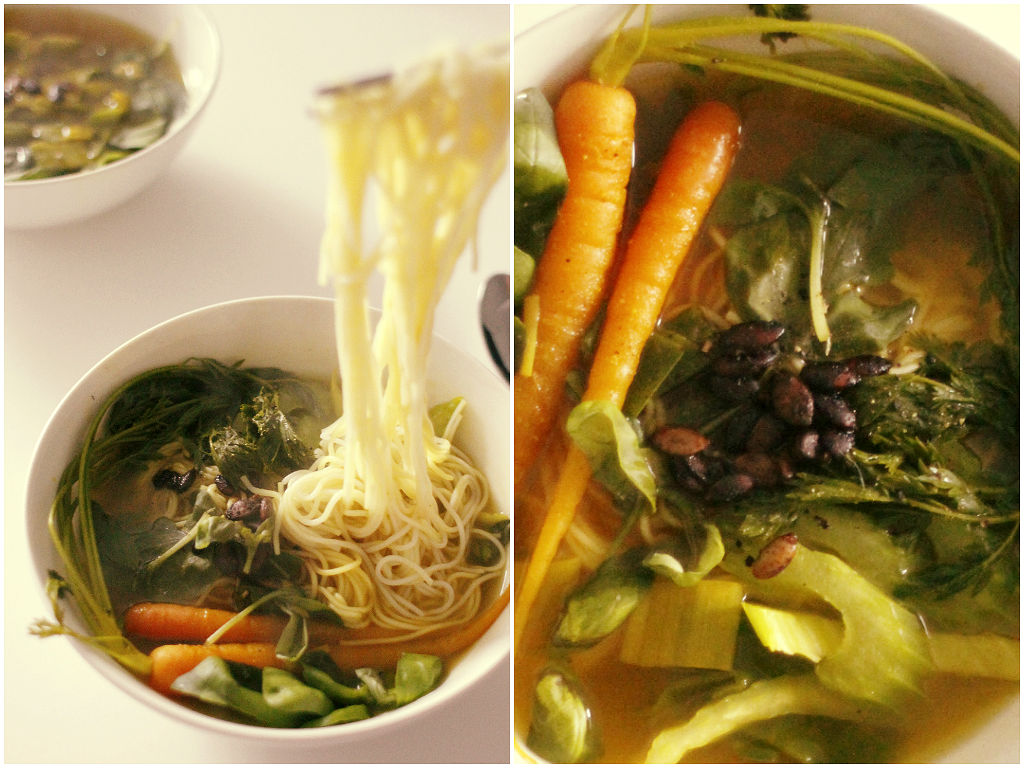 Do you like going down to the markets? Moi? I love love love it either in Melbourne or anywhere when I'm travelling. Markets are a great place to feel the locals, get fresh seasonal fruits and vegetables and give yourself a little bit of food adventure. I had a quick trip down to South Melbourne Markets today. It was quite busy despite gloomy, rainy and cold weather. Funky food stalls, bars and restaurants, fresh colourful fruits and veggies, beautiful deli with yummy cheese, bread, grains and…so many people! You could get lost there for a couple of hours looking around. They also run cooking classes on Wednesday and Friday night, which I would like to try one day. Anyways I made a turmeric noodle soup for a later lunch after markets. Fresh baby carrots were beautifully tender and sweet. Fragrant basil leaves and broth was good enough to satisfy my tummy and warm me up. Miso and turmeric not only goes quite well together but also is so nourishing for your body. It is a healing soup!
Ingredients
1 cup of cooked soba noodles
1 tsp coconut oil
1/2 bunch of baby carrots
1/2 cup of chopped leeks
1 stalk of celery
1/2 cup of basil leaves
1/2 tsp minced garlic
1/2 tsp minced ginger
1 tsp miso paste
1 tsp turmeric powder
a touch of cayenne pepper (optional)
3 cups of water or vegetable stock
salt and ground pepper to taste
toasted pepitas for garnish
Heat coconut oil in a pot. Add garlic, ginger, miso, turmeric and leeks and cook for a couple of minutes over medium heat until fragrant, keep stirring. Add water or vegetable stock and bring it up to boil. Add baby carrots and chopped celery and simmer for 5-10 minutes until veggies are cooked for your liking. Season with salt and pepper, plus cayenne pepper for a kick if you like. To serve, arrange cooked soba noodles and basil leaves in a bowl and ladle the soup over. Sprinkle toasted pepitas right before serving for a crunch. You can also add tofu, fish or chicken for protein. Use buckwheat or rice noodles for a gluten free option.