Yes, I am having a steak today. Cauliflower steak 🙂 It is about time for cauliflower to shine on a plate. I will be so happy to have this steak at the restaurant or pub as a vegetarian/ vegan option. That means I can actually use a knife on this beauty like everyone else does on the meat. Roasted cauliflower tastes scrumptious and looks amazing. The sauce on top, called Chimichurri, is the Argentine sauce traditionally served on top of steak. The sauce itself is fresh, spicy, bright, and vegetarian. You can easily make at home and keep the leftover in the fridge. It is beautiful on poached eggs, toast, soup, grilled veggies and maybe some noodles, too. I made my spin on the traditional Chimichurri by adding creamy avocado.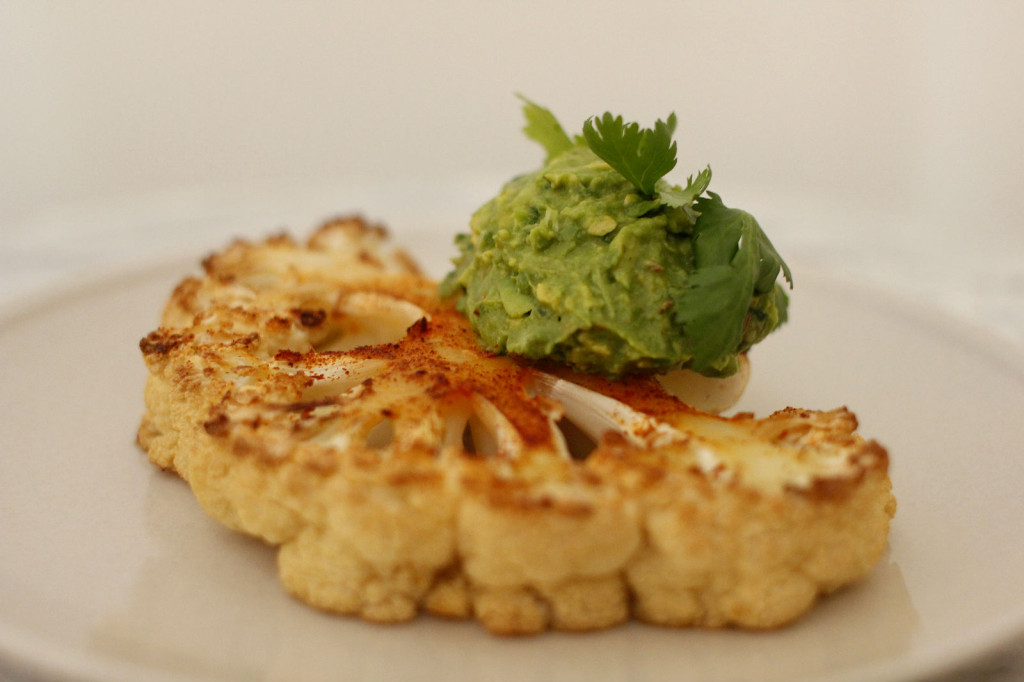 Ingredients
The leftover gremolata oil will keep for several days in the fridge and is delicious over your morning eggs and toast, stirred into soup, tossed with pasta, or simply mopped up with crusty bread. – See more at: http://www.feastingathome.com/2014/02/roasted-cauliflower-steaks-with.html#sthash.lFRDToA3.dpufIngredients (serves 2)2 large slices of cauliflowerIngredients
1 tbsp melted coconut oil
1 tsp smoked paprika
1 tsp dried thyme
1 tsp dried oregano
1/2 tsp cayenne pepper
1 tsp Himalayan salt
For Avocado Chimichurri
1 avocado
1/2 cup of flat leaf parsley
1/2 cup of coriander leaves
1 tsp minced garlic
1/2 tsp cumin
1 tsp honey
2 tbsp white wine vinegar
2 tbsp e.v.o.o
1 tsp of lemon zest and a squeeze of lemon
salt and pepper to taste
Toss sliced cauliflower with oil, spices and herbs. Place on a baking tray. Bake in the preheated oven (200) for 20-30 minutes or until golden and tender, flipping about half way. In the meantime, make Avocado Chimichurri sauce by blending all ingredients in your food processor. Transfer cauliflower steaks onto a serving plate and top with the Avocado Chimichurri sauce.