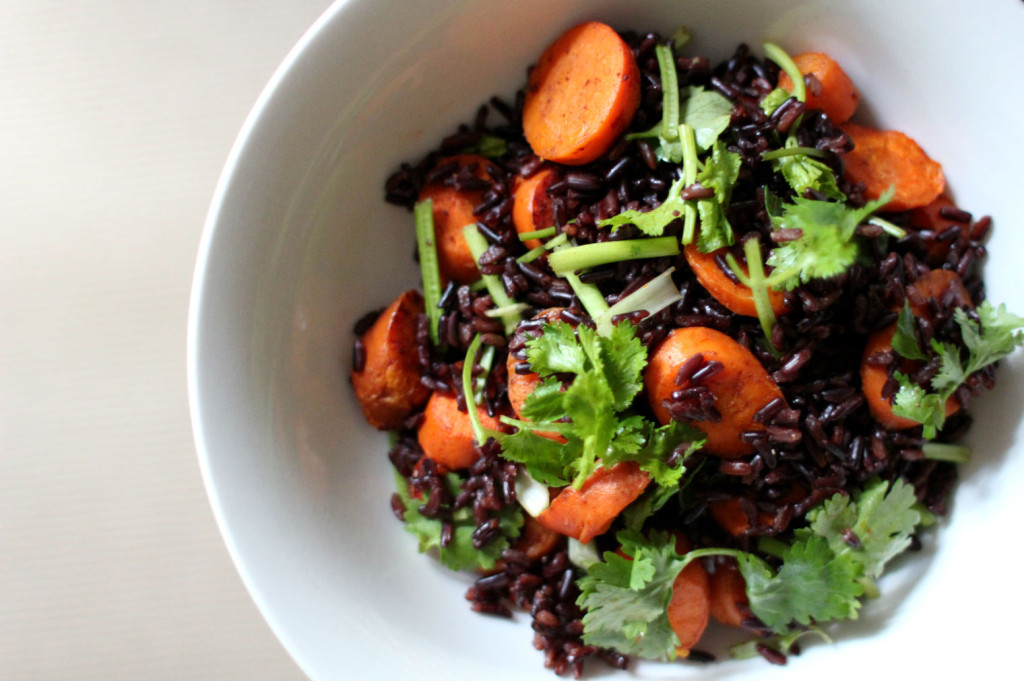 A bag of carrots is a staple food in my fridge. I chew on it for a snack, add into my salads, stir-fries, cakes and muffins. It is cheap, versatile, yummy, nutritious and lasts long in the fridge as well. I had to make a salad with what I've got in my fridge today – of course, carrots are in it. All you need is only three ingredients that I believe we all have in the fridge and pantry. Miso dressing really makes a difference here. It tastes even better next day as the rice absorbs the dressing and flavour develops even further. So it is a good idea making a salad a day before or a few hours before serving.
Ingredients
2 carrots
1 cup of wild rice
a bunch of coriander
For dressing
1 tbsp melted coconut oil
1 tsp Deonjang or miso paste
1 tsp maple syrup
1 tsp smoked paprika
1/2 tsp turmeric
1 tsp Himalayan salt
pepper to taste
Wash and chop the carrots. Mix all dressing ingredients in a bowl. Toss the carrots in the dressing and bake in the preheated oven (180) for 20-30 minutes until cooked. In the meantime, cook the wild rice in a boiling water for about 40 minutes until cooked. Drain and set aside. To assemble the salad, simply toss carrots, wild rice and roughly chopped coriander in a large bowl. Transfer to a serving plate. Drizzle more dressing if you like.