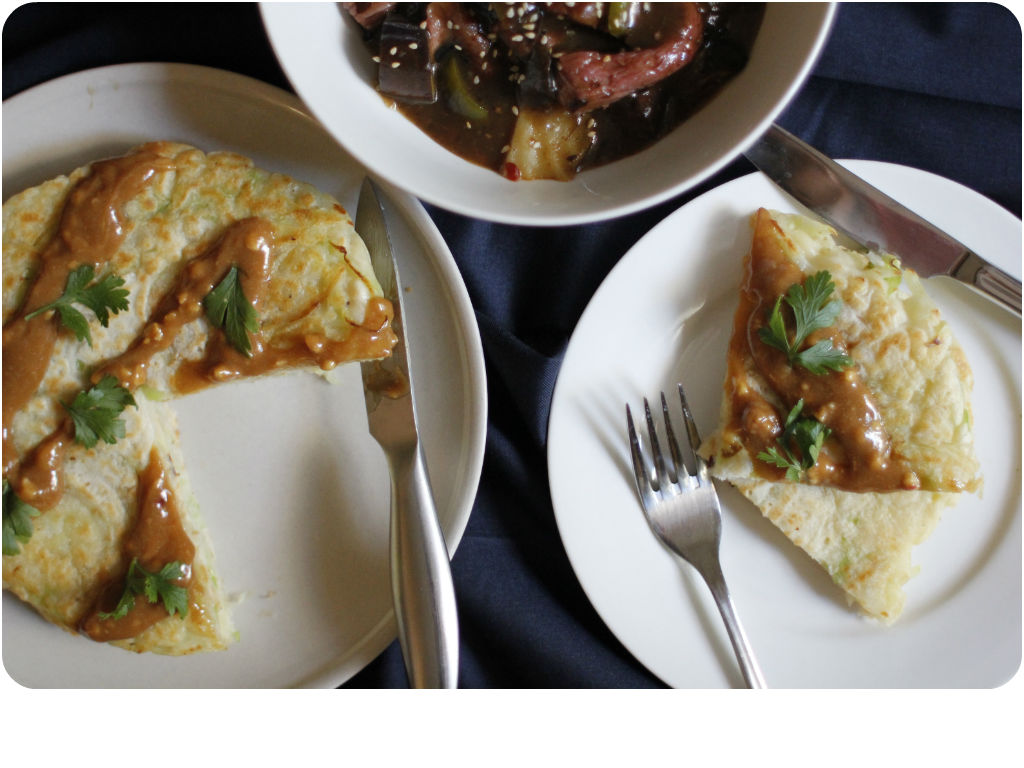 I don't know why, but Koreans make veggie or Kimchi pancakes on a rainy day or when drinking a rice wine. I don't think there is a reason for it. Someone told me because the smell of cooking food goes around more easily when raining, so one house starts making Kimchi pancakes, then neighbors kind of feel like one, and so on. I think you just do because you grew up with it. General term for this pancake is "Jeon" in Korean, and depending on what you use, the jeon name commonly follows its main ingredients. It can be made either sweet or savoury. Great for a breakfast, snack, appetizer, side dish or even dessert!

Ingredients (2 big pancakes)
1 cup of shredded green cabbage
1/2 thinly sliced onion
1 cup of bean sprouts
1 grated potato
1 cup of flour (you can use rice flour or buckwheat flour for gluten-free version)
1/2 block of tofu
1 egg
water
salt and pepper to taste
Mix egg, water and flour in a mixing bowl to make a pancake batter. Then add other ingredients into the batter. It should be slightly runny so that you can make thin pancakes. Heat a pan on medium heat, add a teaspoon of coconut oil and pour the batter in a thin layer. Cook for 3-5 minutes each side until nice and golden. Traditionally it is served with a soy sauce, but I made a tahini dressing today. Mix a teaspoon of tahini paste, a teaspoon of soy sauce, a teaspoon of white wine vinegar and a teaspoon of honey. Drizzle over the pancake before serve.